Builders Club Service Project:
The Nichols Lawson Middle School Builders Club dropped off twenty boxes of Little Debbie Snack Cakes to the Care House in Sylacauga. These snack cakes will be part of the Care House Christmas Basket Project. We appreciate the services that are provided to our community by this organization.
We have forty five student volunteers that are serving at the Sylacauga City Schools Education Foundation Breakfast for Santa this Saturday, December 5, 2015. Thank you to all the NLMS student members that are working a two hour serving shift.
The NLMS Builders Club will meet this Sunday, December 6, 2015, from 3:00 – 4:00 in the NLMS Media Center. Please make plans to attend.
Builders Club Induction Ceremony 2015-2016
The 2015-2016 Induction Ceremony was held on October 25, 2015, at the Nichols Lawson Middle Media Center. A small reception was held in honor of our members, officers, and guests.
The advisors of the NLMS Builders Club are Mrs. McCartney and Mrs. Beaudry.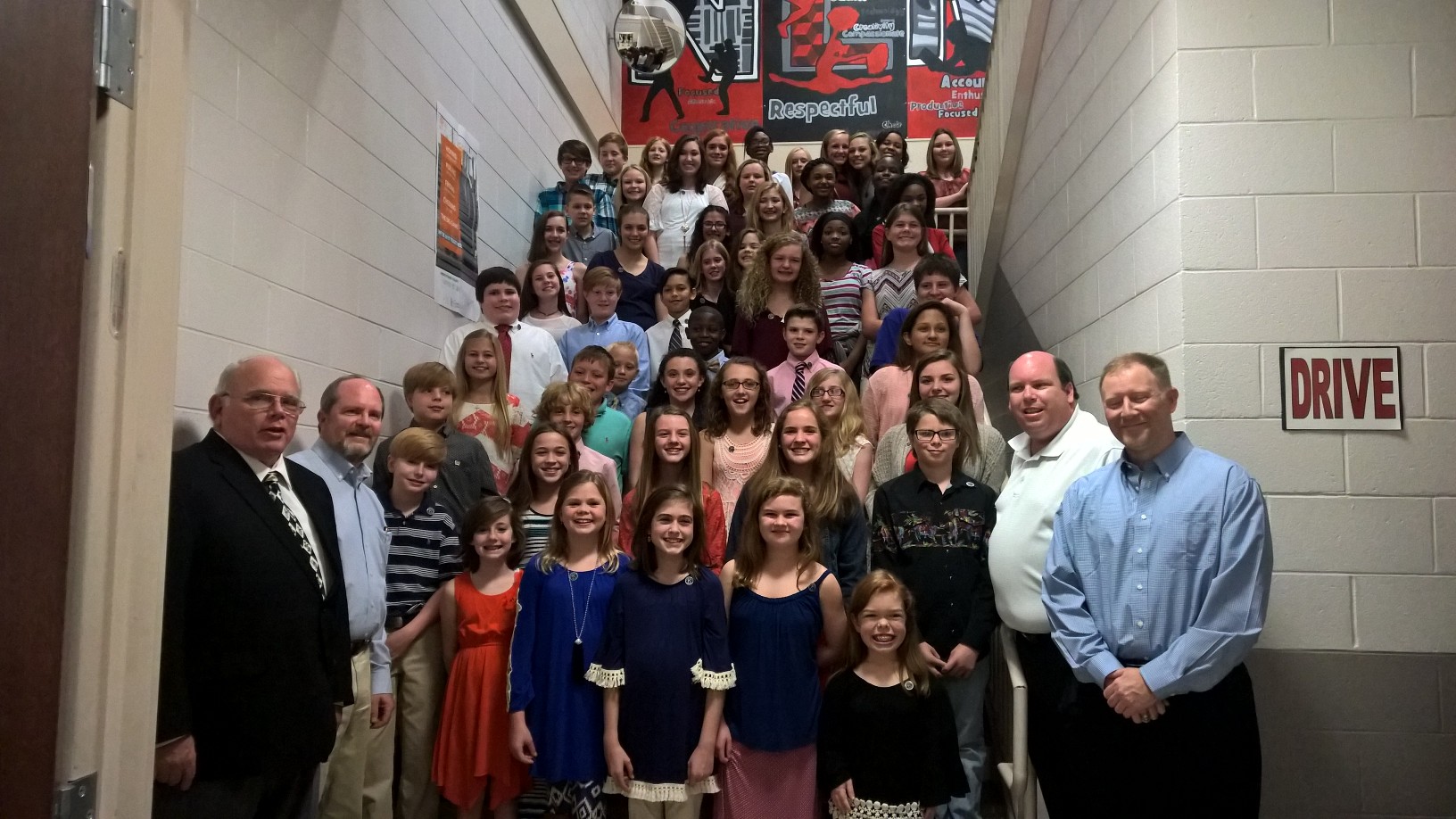 Congratulaions to the following 2015-2016 Officers and Members:
President
Lauryn Wood
Vice President
Alise McGrady
Secretary
Daniel Bailey
Treasurer
Kay Ochoa
Sergeant At Arms
Reed McCartney
Adams, Jared
Adams, Tamia
Aman, Karsten
Andrews, Cooper
Austin, Will
Barnett, Jade
Barron, Landon
Basinger, Hayden
Boozer, Katlyn
Boyce, Angel
Catchings, Noah
Clardy, Creed
Davidson, Seth
Deason, Savannah
DeLee, Hagan
Douglas, Jade
Faircloth, Emma
Flora, Morgan
Giles, Dalton
Gordon, Brooke
Hawkins, Margie
Heard, Alexis
Hopkins, Emma
Hughes, Maria
Hughes, Robert
Johns, Hollee
Kelley, Ashley
Letcher, Libby
Livingston, Rachel
Machen, Karlee
Manley, Taylor
Martin, Emilee
McCartney, Savannah
McHugh, Carmen
McKinney, Kyla
Morgan, Chloe
Myrick, Hannah
Myrick, Madison
Oden, Diesel
Parrish, Toria
Patterson, Kaylee Alise
Phurrough, Grayce
Pullen, Luke
Reese, Mya
Rhine, Tyra
Richardson, Faith
Robinson, Kristen
Robinson, Todd
Rollins, Michelle
Sandoval, Alexis
Seaborn, Noah
Slaten, Ryan
Tankersley, Megan
Thomas, Raydarious
Townsend, Brianna
Tyler, Ashlyn
Walker, Bevin
Waller, Ivey
Watkins, Marlee
Williams, Mysha
Williams, Taniyah
Wills, Raegan
Wood, Lacey
Click here for Builder's Club Application
Builders Club was first chartered in 1975. Builders Club is an international student-led organization providing members with opportunities to perform service, build character, and develop leadership.
Website: www.buildersclub.org
Our NLMS Builders Club is supported by our local Sylacauga Kiwanis Club. The NLMS Builders Club participates in Pancake Day, the Kiwanis One Day of Service, and several local service projects.
If you would like to help others in our community, please apply today to be a member of the NLMS Builders Club.
The Builders Club meets on Sunday afternoons from 3 – 4 p.m. in the NLMS Media Center.
The cost is $25.00 per membership year for newly inducted members. This cost covers membership, service projects, and a NLMS Builders Club t-shirt.
Nichols Lawson Middle School Builders Club
Meeting Dates for 2015 - 2016
October 25, 2015 Induction Ceremony-Members 3:00 – 4:00 p.m. NLMS Media Center
Dress for this event will be Sunday best attire. Parents may attend this meeting. A small reception for guests will follow the ceremony.
December 6, 2015 NLMS Builders Club Meeting 3:00 – 4:00 NLMS Media Center
February 7, 2016 NLMS Builders Club Meeting 3:00 – 4:00 NLMS Media Center
May 15, 2016 NLMS Builders Club Meeting 3:00 – 4:00 NLMS Media Center
Service Dates
March 5, 2016 SHS Kiwanis Pancake Day
Each member will volunteer for one - one hour shift at SHS for Pancake Day.
April 2, 2016 Kiwanis Service Day
Service Project will be announced for our One Day with the Sylacauga Kiwanis Club.