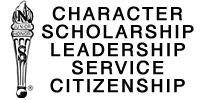 logo and pillars
2015-2016 NJHS Induction Ceremony will be held on Thursday, November 5th at 7:40 am.
2015-2016 Faculty Council
Emily McLain
Coach Billy Faircloth
Coach Michael Pearce
Haley Gunnels
Melissa Lambert
Ashley Beaudry
Information about National Junior Honor Society
What is NJHS?
The National Junior Honor Society is the nation's premier organization established to recognize outstanding middle school students. The NJHS has more than one million student members, and there are chapters in all 50 states, the District of Columbia, Puerto Rico, and Canada. The purpose of this organization is to create enthusiasm for scholarship, to stimulate a desire to render service, to promote leadership, to develop character, and to encourage good citizenship in the students of secondary schools. The NJHS is the forerunner to the National Honor Society. Students in the National Honor Society are eligible for numerous scholarships and awards each year.
What does the NJHS do?
Last year, throughout the country, the individual chapters of the National Junior Honor Society collected a total of 1.3 million dollars for charity, and spent over 1 million hours voluntarily working on service projects for their schools and communities. Think of the difference these students made in their schools and communities!
What did the Nichols-LawsonMiddle School Chapter of the NJHS do in 2012-1013?
The Nichols-LawsonMiddle School chapter of the NJHS did five service projects last year. We wrote letters to active-duty soldiers and to veterans at local veterans' homes; supplied Christmas presents for a family; collected 26 bags of coats, socks, long-johns, and blankets for the Jimmie Hale Mission and Jessie's Place; dug up hundreds of daylilies; and served as waiters and waitresses at a banquet. Further, each of our 46 members performed five hours of service individually, as well. Not only did we accomplish multiple service projects, but we also raised over $6000 for Relay for Life and the American Cancer Society. We sold lip suckers, doughnuts, t-shirts, candy bars, carnations for Valentine's Day, and Relay for Life products.